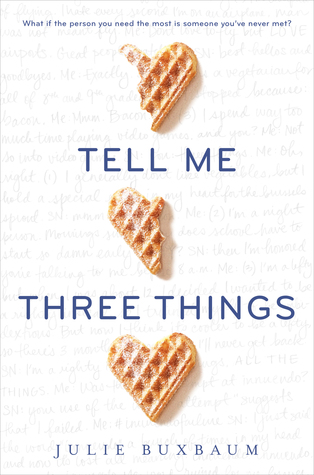 Title reviewed: Tell me three things
Publisher: Delacorte Press
Summary: in the book what i like is that it shows how school can be when you transfer and don't really have any friends. Though there might be someone there for you, you might not see them. That's what Jessie goes through and I'm happy that she found out who her anonymous writer was.
Cover appeal: Well waffles so first it reminded me of food but the words made me think of "I love you" and at the bottom of the cover it has a whole waffle so two peoples whose hearts connected.
Most compelling parts of the book: That Jessie she bottles up her feelings and doesn't really show them but when she talks to SN she opens up and shows herself.
Disappointments: I so wanted to know if Dri and Liam get together but the book is a-ok
How would you rate this book? 5 - Hard to imagine a better book
Recommendations and final thoughts: To those who know how transferring school is and don't mind a little romance sprinkled in.