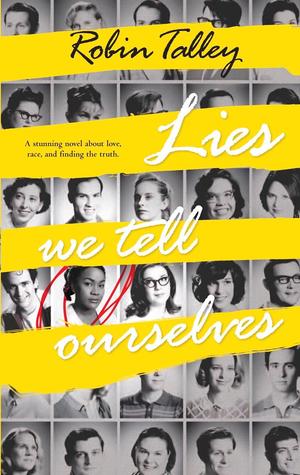 Pen Name:
Margo Roth Spiegelman
Title:
Lies We Tell Ourselves
Publisher:
Harlequin Teen
Lies We Tell Ourselves is the story of a fictional Virginian high school that opens its doors to black students for the first time in 1959. The story follows Sarah and the nine other black students as they are endlessly harassed and threatened in the hostile environment of the formerly all-white high school. I liked this book a lot! It broke my heart, but in the good way. It forced me to look more closely at the racism and homophobia that existed in the past and those prejudices that exist today.
Sure, I liked the cover. I liked the yearbook format.
Most compelling parts of the book:
I've read a lot of books that bite off more than they can chew, but Lies We Tell Ourselves somehow manages to discuss racism, gay right,s and the violence that often followed school desegregation; while pretty much giving each issue good amounts of attention.
Nope.
How would you rate this book?
4 - Better than most
Recommendations and final thoughts:
I would absolutely NOT recommend this book to anyone who has to study for a biology test or sleep, because you might end up reading this instead of doing either of those things!