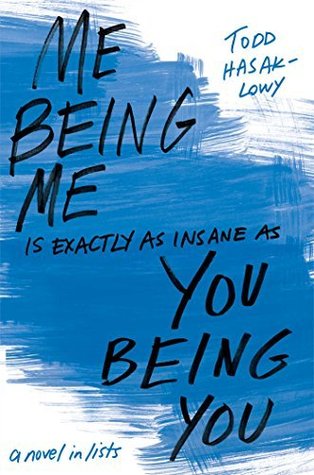 Title reviewed: Me Being Me Is Exactly As Insane As You Being You
The entire novel is told in lists, which I think is very creative. It is about a guy named Darren Jacobs who is going through his high school years facing many problems, such as his mother and father's divorce, girl problems, and so forth. I thought this book was okay, mostly because at some parts of the book I honestly felt uncomfortable and weirded out, and I thought the ending was very incomplete.
I like the aspect of simplicity in the cover. I like how it looks almost handmade, like someone painted it and then wrote the title in Sharpie. It most definitely reflects the contents, especially when it comes to one of main characters, Zoey Lovell.
Most compelling parts of the book:
The most compelling aspect of the book would be the idea that it is told in lists. It is maybe a bit hard to read, but overall I thought it was different and really cool. I've never read a book written in lists before.
I was disappointed in the ending because it felt incomplete and unfinished, almost like it was rushed and thrown together at the last minute.
How would you rate this book?
Recommendations and final thoughts:
I would recommend this book to teens 15 and up, but mostly it would depend on maturity and beliefs and opinions.